Before buying anything, be sure to do extensive research and background checks, ESPECIALLY when it comes to something as important as your health !
Beware of Cheap Duplicates
The Original , A Registered product in India.
Dear Customer,
In every industry, only the best ideas and products are worth imitating. Off late, it has been noticed that certain unscrupulous traders and teleshopping/onlineshopping companies are trying to capitalize on the original MORNING WALKER outstandingly solid reputation and success. These companies are trying to take advantage of ignorant people by using our product image and / or offering similar products and claiming that they will produce similar results. This message is to inform you of the truth and the facts.
Only MORNING WALKER is a registered product in India having registered Trademark, Copyright and having registered designs granted by Controller of Patents, Design & Trademark, Govt. of India, who is the authority to accept and grant intellectual property right in india. Anyone who is attempting to sell cheap imitations by infringing our design have been held liable for legal action as per the law of the land.
How to check the vital features on the original packing of Morning Walker ?
How to instantly recognize the ORIGINAL MORNING WALKER
If you Know any supplier selling imitation machines please submit information by filling up the
Counterfeit Supplier Information
Click here for Intellectual Property Rights (IPR) of Morning Walker - IP Rights
Model MR960 - Original PACKING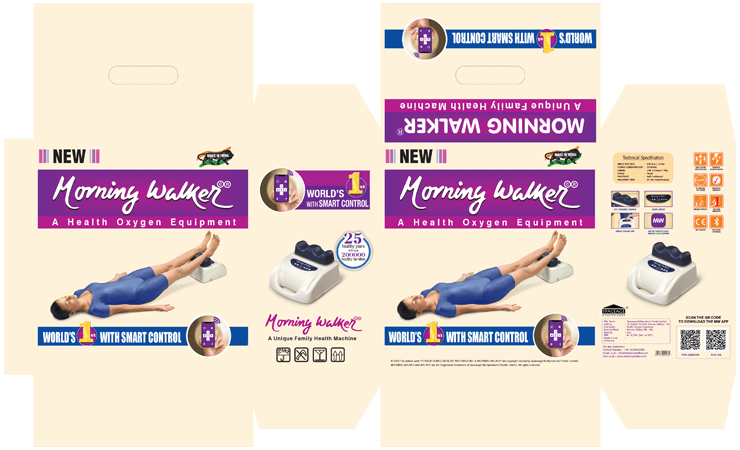 The original MORNING WALKER has been built with following specifications :
Strong ABS body with a perfectly designed footrest curvature and height.
Oscillating speed @ 140 +/- 2 times per minute and has NO variable speed.
Heavy duty motor of 50 watts for continuous use.
Metal bottom plate (NOT PLASTIC).
The Original MORNING WALKER , sold and serviced in India only by SPACEAGE MULTIPRODUCTS (P) LTD. have the following features :
Recommended and tested by leading medical institutions.
Clinically tried by reputed medical institute in India.
Certified for its benefits and usage by the users including doctors.
USED by over 2,00,000 satisfied families in India.
100% safe, non injurious and without any harmful side effects.
Being sold and serviced by the larger sales and service network covering over 270 location in India.
Imitation MORNING WALKER violations, false claims and lawsuits :
ALL the imitation machines have been introduced after MORNING WALKER and none of them can claim all, if any of the above facts and statistics. Built with cheap materials purely on price consideration, these imitation machines may cause :
Physical harm or discomfort, due to incorrect oscillation and multispeed function, different specifications, inferior workmanship and construction materials.
Imitation machines on the market are not registered products and do not have the correct frequencies and will probably cause problems.
Some of these imitations are facing lawsuits, due to trade mark / design violations and other claimed alleged misconduct.
They Lack know how and after sales service support as a result you run the risk of losing all your money.
They use the very same facts, statistics, medical information, physical results, background history and even the same graphics to mislead buyers.
If you have had an unpleasant experience with any of the imitation machines please remember this:
"You get exactly what you pay for"